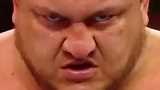 It sounds likeSmackDown Livewon't have both the United States and Intercontinental titles after all, while a major storyline was reportedly scrapped due to Chad Gable being moved back to the blue brand.
During last night's episode ofSmackDown Live, Intercontinental Champion Finn Balor made his presence felt on the blue brand leading some fans to wonder whether that meant the show would have both him and United States Champion Samoa Joe.
Well, according to Dave Meltzer,"Samoa Joe is going to be on RAW. That hasn't been announced. He was gonna be announced on the show, but since he was sent to the doctor or whatever — taken off the show. They were going to announce that last [Monday] night."
That definitely makes sense and Meltzer went on to reveal that a big storyline was nixed due to the Superstar Shakeup this week."So Bobby Roode and Chad Gable were building that team up to do a split with Bobby Roode going heel — that's all out the window now," he added.
As fun as it might have been to see those two clash, it was a pretty predictable sounding storyline and it will now be more interesting seeing what WWE chooses to do with Roode and Gable separately onRAWandSmackDown Live. Stay tuned for updates.
DISCLAIMER
: TheRingReport.com is protected under the DMCA (Digital Millenium Copyright Act) and…