Spicy Indian Salad with Mint Lime Dressing
Admin, 2 months ago
3 min

read
23
A few years ago, at Blogfest 2015, Morningstar Farms hosted a luncheon for the attendees. While not all of their products are vegan, they served a great spicy Indian salad that was made with a variety of veggies, faro, and their Spicy Indian Veggie patties, which are completely plant-based.
It was so good that I even went back for seconds! On my second serving, I took the time to look and taste to decide what was in it. Mint, for sure, plus tomato, cucumber, onion, and chickpeas. I decided that I was going to re-create it as soon as I got home.
Instead of the faro, I used freekeh, but rice, buckwheat or even quinoa would be great substitutions, so it would be easy to make gluten-free. I added zucchini and toasted pine nuts because I really think that everything is better with pine nuts.
You'll want to make this Spicy Indian Salad with Mint Dressing tonight! Do it! #MeatlessMonday #veganClick To Tweet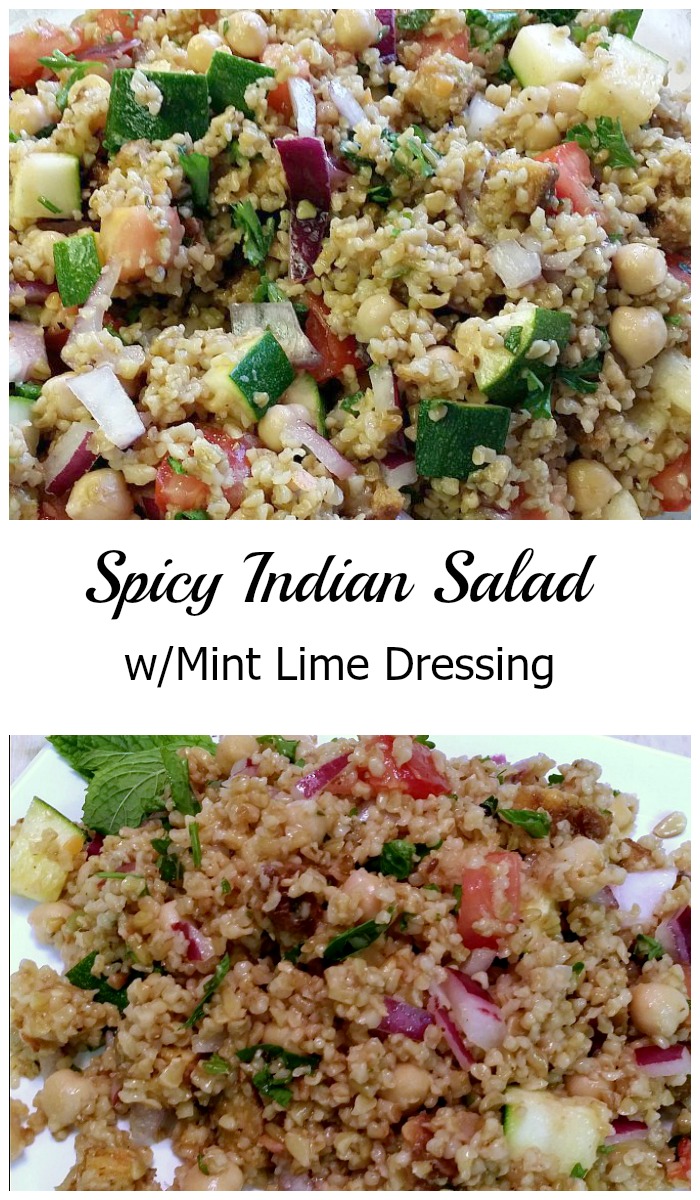 Of course, the greatness of a salad depends upon the dressing. I had no idea what was in that long-ago salad dressing, but I decided to keep mine light and fresh, using a little mint and lime juice to complement the flavors of the salad.
For this recipe I used the Morningstar Farms Spicy Indian Veggie patties, but if you'd prefer, here is a recipe for Indian Lentil Cakes that would work beautifully.
Spicy Indian Salad with Mint Lime Dressing
I love this Spicy Indian Salad as a main dish but it is also a perfect salad to serve at a barbecue or with any entree.
Spicy Indian Salad with Mint Lime Dressing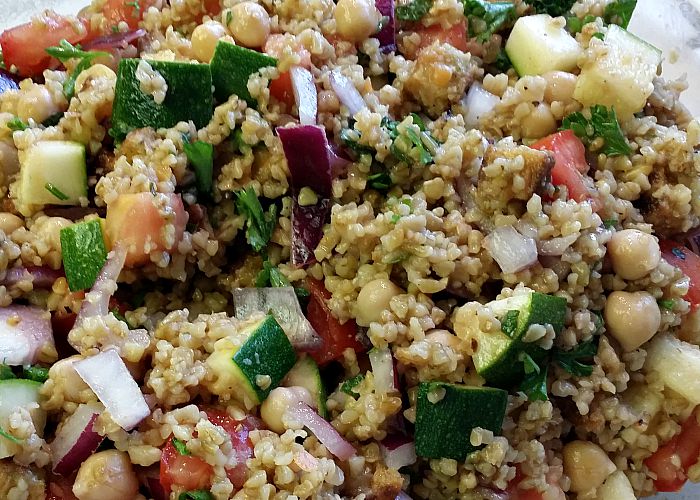 Vegan/Vegetarian
Author: Debbie
Recipe type: Salad
Serves: 2-3
Ingredients
2 Morningstar Farms Spicy Indian veggie patties (or use this recipe if you prefer to make your own)
2 cups prepared freekeh, faro, or other grain of your choice.
1 small red onion, chopped
2 tomatoes, chopped
1 large zucchini, chopped
1 can garbanzo beans, rinsed and drained
½ cup toasted pine nuts
2 tablespoons parsley, chopped
½ cup extra virgin olive oil
¼ cup lime juice (about 2 limes)
1 tablespoon white wine vinegar
1 tablespoon mint, chopped
Salt and pepper to taste
Instructions
Toast the pine nuts and set aside.
Cook the Spicy Indian patties and the freekeh (or other grain) and allow to cool a little. Then cut the patties into small, bite sized pieces. Transfer the freekeh to a large salad bowl.
In a medium bowl, combine the onion, tomatoes, and zucchini. Add it to the bowl with the freekeh, then add the chopped Spicy Indian patties, beans, pine nuts, and parsley. Stir gently to combine, then add the Mint Lime dressing (see below) and toss.
Refrigerate for at least 15 minutes to allow the flavors to combine. This salad can be served slightly warm or chilled.
Mint Lime Dressing
Combine the oil, lime juice, and vinegar and mix with a fork. Stir in the mint, then season to taste.
3.5.3208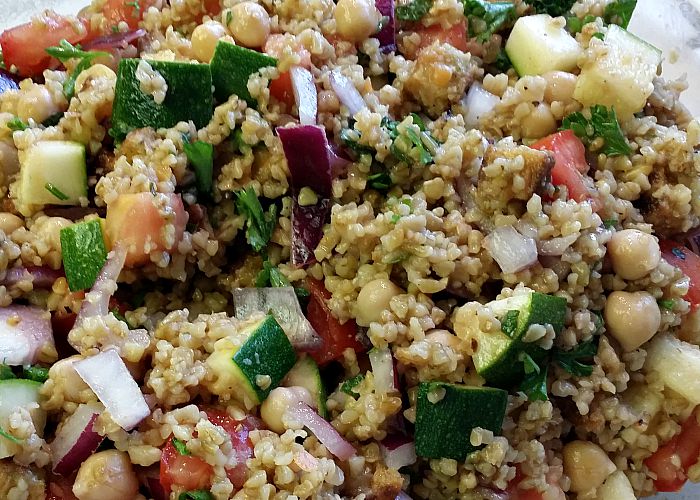 What is your favorite grain? Have you tried freekeh before?
---
Weekly Linkups
My weekly linkups! Please stop by and check out all of the great recipes, workouts, and information that all these awesome bloggers share every week!
Meatless Monday with Sarah and Deborah
Tuesdays on the Run with Marcia, Erika, and Patty
Wild Workout Wednesday with Annmarie, Jen, and Nicole
All About Running with Janell
The Running Coaches' Corner with Lora Marie, Marc, and Me!
Friday 5 2.0 with Rachel and Lacey and Meranda
Weekly Wrap with Wendy and Holly
Related posts
About Us
Our vision is to inspire readers, to give them support and advice.We are here to gain your trust, and we want to hear all your opinions.
Learn more
Your AD Here
Subscribe Now
* You will receive the latest news and updates on your favorite celebrities!