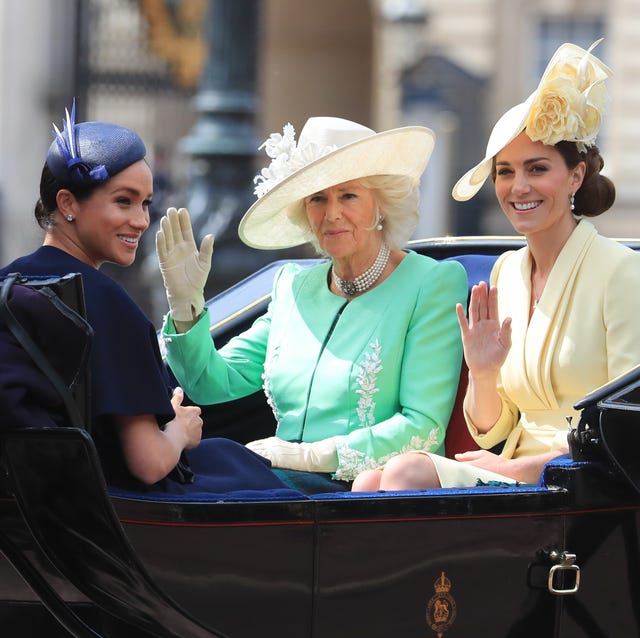 Gareth Fuller – PA ImagesGetty Images
Today, the royal family gathered in London for Trooping the Colour, theofficial celebrationof Queen Elizabeth II's birthday. While the queen was actually born in April, it has become a royal tradition to celebrate the monarch's birthday a second time with a grand celebration since the reign of King George II. Click through for every image from the special day.
1of 13
Members of the Welsh Guards, a regiment of Household Division, march to the Horseguards parade.
2of 13
Prince Edward (far right) and Sophie, Countess of Wessex (second to the right) arrive in a carriage with their children, Lady Louise Windsor and James, Viscount Severn.
3of 13
Meghan Markle, making arare appearanceduring maternity leave, and Prince Harry arrive in a carriage with Kate Middleton and Camilla, the Duchess of Cornwall.
4of 13
Meghan, Camilla, and Kate wave to the crowd. The Duchess of Sussex wears Givenchy while the Duchess of Cambridge wears Alexander McQueen; both are in their go-to designers.
5of 13
Sisters Princess Beatrice and Princess Eugenie wave to guests during the procession.
6of 13
The queen, dressed in a pink and white tweed look by Angela Kelly, travels solo in the Scottish State Carriage.
7of 13
Her Majesty, in the carriage to the right, makes her way along The Mall to Horse Guards Parade.
8of 13
Prince Charles, Prince William, Prince Andrew, and Princess Anne, Princess Royal ride on horseback behind the queen's carriage.
9of 13
The parade includes over 1,400 officers, 200 hundred horses, over 400 musicians.
11of 13
Prince William gives a salute.
12of 13
Members of the royal family begin to gather on the Buckingham Palace balcony after the parade.
13of 13
Prince Louis and Princess Charlotte wave from a Buckingham Palace window.