By
Yolanda Jones

Updated: June 13, 2019 1:30 AM CT |
Published: June 12, 2019 8:43 PM CT

A chaotic scene erupted in the Frayser area Wednesday evening following an officer-involved shooting, with heavily armed police facing off against an angry, rock-throwing crowd.
Rain and tear gas had largely dispersed the crowd by 11 p.m. as officers on horseback patrolled, but not until after agitated onlookers and police clashed in a volatile situation that left several officers injured by flying debris, according to Memphis Police Deputy Director Mike Ryall. None were injured seriously.
Officials from the Tennessee Bureau of Investigation, which took over the scene since a law enforcement officer was involved in a shooting, had offered no details by late evening. Keli McAlister, TBI's public information officer, said on Twitter at 10:37 p.m. that she was in the area but there would be no update "for some time."
However, the shooting victim was identified by family members as Brandon Webber, 21. His cousin, Demetrick Skinner, said Webber was fatally shot and that as many as 20 shots were fired at him.
Webber's aunt, Yolanda Holmes, said police claim he was shooting at an officer but the family was trying to confirm details. Holmes said Webber was a Frayser High School graduate.
County Commissioner Tami Sawyer, who was at the scene, retweeted a tweet also identifying the victim as Webber.
The tense situation came against a backdrop of heightened emotions locally and nationally over police shootings.
MPD officers were not involved in the shooting, however. The department was called in to assist the Gulf Coast Regional Task Force and the U.S. Marshal Service. No details were available on whom the agencies were seeking or why.
MEDIA: TBI Agents are responding to scene of an officer-involved shooting in the 2000 block of Durham in Memphis involving members of the Gulf Coast Regional Fugitive Task Force, US Marshal Service. PIO@TBIKeliis headed to the scene & will provide additional info when possiblepic.twitter.com/ZR3BDtTKje

— TBI (@TBInvestigation)June 13, 2019
More than 30 law enforcement units converged on the scene in the 2000 block of Durham as the angry crowds gathered. Cars sped toward officers before swerving off, and a police helicopter flew overhead shining lights on the street. Police used loudspeakers to tell the crowd to disperse.
"This is crazy," Skinner said.
Ryall said the area of Overton Crossing and Argonne Street, where people were throwing rocks, was considered a crime scene. Crime scene officers were on their way about 10:30 p.m. to investigate.
Police began using tear gas to disperse the crowd shortly before 10 p.m. Several media members were hit by the tear gas or shoved by the angry crowds.
State Rep. Antonio Parkinson, a Memphis Democrat whose district includes Frayser, posted a statement on Instagram.
"Our thoughts and prayers go out to all involved in the incident in Frayser," Parkinson said. "The Frayser community is comprised of good, hard working people who love their community.
"The community wants answers into tonight's incident. We are asking for calm and restraint by all and complete transparency in the investigation of tonight's officer involved shooting."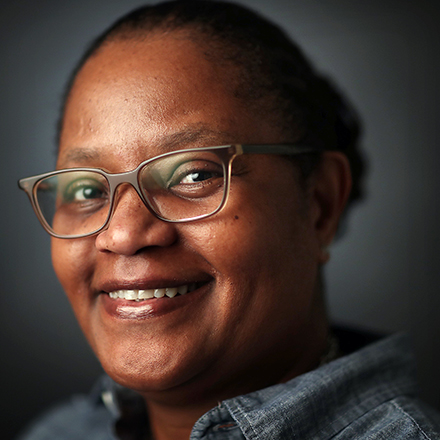 Yolanda Jones
Yolanda Jones covers criminal justice issues and general assignment news for The Daily Memphian. She previously was a reporter at The Commercial Appeal.
---